Here's what you can get from FunnierU.
A COMEDY WRITING WORKBOOK
This workbook actually TEACHES you how to write jokes, not just theory but real exercises, with step-by-step audio instruction from the authors.
TWO JOKEBOOKS
Each jokebook has 1000 timeless jokes. These are NEW, original jokes written by the authors. These are NOT old stock lines found in most jokebooks.
TOPICAL JOKES
Every weekday topical jokes posted on one of our social media sites. Clean, current, non-partisan, and FREE! Click on the STORE to get them for free.

WE KNOW, YOU'VE TRIED THIS BEFORE.
FunnierU is different! TOTALLY different. You can actually learn HOW to break down comedy and write jokes with an actual workbook, while listening to the authors talk you through it. It's like having them in the room with you, which could also qualify you for hazard pay. And in the meantime while you're learning and sharpening your comedy writing skills, you'll have 2000 jokes you can draw from in the jokebooks RIGHT NOW!  You get training, jokebooks, topical jokes, and audios…it's the TOTAL PACKAGE OF HUMOR!
SO WHAT CAN YOU GET?
We know we're repeating ourselves, but this is too good to be true!
Instruction on writing comedy, through the workbook and audios.
Jokebooks of timeless jokes.
Daily emails with topical jokes.
THIS PROGRAM IS FUN AND FRUSTRATION FREE!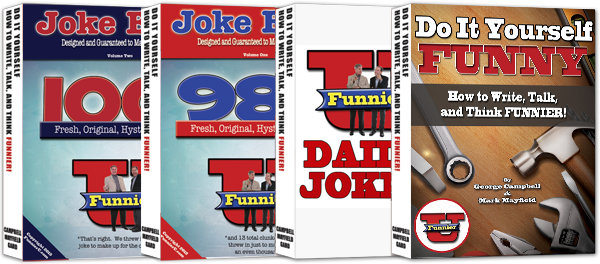 "It's rare to find people who are truly funny. It's almost impossible to find people who are truly funny and can teach it! Mark Mayfield and George Campbell fall into both categories."
Jeanne Robertson CSP, CPAE / YouTube and SiriusXM sensation
"These guys are funny. They understand what funny looks like and sounds like. They have years of experience being funny in front of business audiences around the world so they know how to sell funny. Most importantly they can help you and your presentations be funnier."
Larry Winget CSP, CPAE / Six-time NY Times/WS Journal bestselling author
"These are two of the funniest guys in professional speaking. (Well, Mayfield is just so-so, but still!) They not only know funny, they can teach it."
Joe Calloway CSP, CPAE / Author of "A Category of One"
"I don't know two funnier men on the planet than George Campbell and Mark Mayfield. If you will place your trust in them, they will make you funnier. And, this is even better, they will help you discover processes, tips, and techniques you can use again and again."
Lou Heckler CSP, CPAE / Nightly Business Reports Commentator
"Knowing funny is one thing, being funny is another, teaching funny is another thing yet. These guys at FunnierU can do all three. If you want "funny" for any reason, then you can't pass up this opportunity to laugh and learn with two of the funniest guys I know."
Bob Eubanks / Game Show Host
Do you want to be the funny one?
Do you want to spice up that speech with humor?
Do you want to tell a joke better?
Do you want to have a witty observation of the news?
Do you want to be President?
FunnierU can help you with the first four. And who wants to be President anyway.
So many headaches!
Here's some samples of the daily jokes:
The post office is considering raising the price of stamps again.  The other option they're considering is uninventing the internet.
In Los Angeles, a human head was found in a plastic bag. Half the city is terrified. The other half is outraged that it was a plastic bag.
Steve Forbes was on Fox News talking about "money management". Isn't this the guy that once spent forty million dollars to run for President, a job paying $400,000?
Here's some samples of jokes in the jokebooks:
A bath mat is a little rug that wet children like to stand next to.
I've reached a time in my life where a romantic experience is static cling.
Resistance training is the key to fitness. I've resisted going to the gym, does that count?
FUNNIERU is FUN
and FRUSTRATION FREE!
Pick the products you like, or buy them all and get more than a 50% discount.
START BEING FUNNY TODAY!
Shop Now!